Licence Plates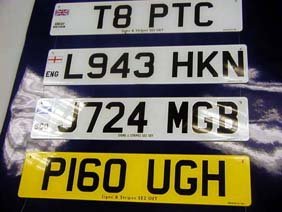 We are now registered with the D.V.L.A. to make number plates. This includes square plates and motorbike plates.

Please remember that you now need to bring your V5 registration document or log book with you when ordering number plates.

We will still continue to make show plates to customers' specifications. Please note that show plates are for off-road and exhibition use only, they are not street legal.

As well as European style GB number plates we also offer national flags with either GB and a Union Jack, or ENG, SCO, CYM with their appropriate flags. All of these country identities are street legal.




Phone/Fax: (07545) 063 420 - Email: sales@signsandstripes.co.uk